Posted on 10. Mar, 2018 by Sylvia in Marketing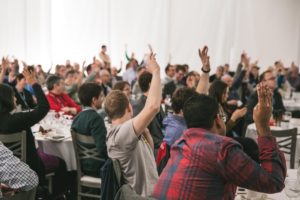 When's the last time you delivered a presentation to your ideal target market?  Was it in-person or online?
Either way, speaking is a very powerful platform to deliver your message, demonstrate your expertise and build credibility.  The scaling mechanism of this platform allows you to speak to more than one prospect at a time.  As a busy professional, efficiency through scaling is a must.
As Guy Kawasaki said: "The goal is to provide inspiring information that moves people to action."
Here are 4 ways to make your presentation resonate with your audience and encourage them to take action:
1. Hit a chord with your audience
What keeps your target audience up at night?  What worries them?  Know their pain points and ensure that your presentation highlights these key ideas.
Of course, don't leave your audience hanging.  Be sure to also build in the solutions to these problems in your presentation.
The best way to communicate these ideas is via bullet points and speak to further elaborate. Reading word for word loses listeners' attention. Bit-sized points are easier to follow.
2. Make it interactive
Don't get your audience nodding off.  Encourage them to ask questions throughout the presentation as opposed to leaving it until the end.
 Variety is the spice of life. Consider asking your audience questions or ask participants to share their solutions and experiences to a specific situation.
3. Use plain language
Don't assume that your audience understands your terminology and never use acronyms.  Speak in plain language and give lots of examples to explain complex ideas.  Consider using images and simple flow charts.
 "To simplify complications is the first essential of success."  George Earle Buckle
4. Know your call-to-action
What action do you want your audience to take after having listened to your presentation?
The most effective call-to-action is one that is related to a content or contact offer. Your audience shouldn't be forced into a game of "find the needle in the haystack" to decide where to go next.  It's your job to guide them to the solution to the pain point that you have identified.
A content offer provides your audience with more valuable content.  For example, you provide them with a link to your whitepaper.  Tip: always send them to a link so that they must enter their contact information in order to access your content.
A contact offer is one that invites interested participants to set up a meeting or session with you to discuss solutions to identified pain points.
A well-crafted call-to-action will have your audience lining up for more!